2022 The 9th Japan Ocarina Contest (English version abstract)
Dear Ocarina Lovers
This Contest started in 2014, and due to the influence of Covid19, we will be holding the 2022 contest by video judging, following the 2020 and 2021 contests. We hope many of you will participate.
Japan Ocarina Contest Executive Committee
Committee Chairman Riko Kobayashi
Organized by Ocarina Contest of Japan Executive Committee 
Supported by Itami Culture and Sports Foundation
Judges
Satoshi Ikegami
Composer (Recent work: Suite for Recorder Quartet, Four Japanese Scenes)
Masaya Ishiwaka
Composer Chorus Conductor
Emiliano Bernagozzi
Gruppo Ocarinistico Budriese Leader
Tatsuo Kobayashi
Sweet Potato Ocarina Ensemble Leader
Kazuhiko Shima
Former Director, Hamamatsu Museum of Musical Instruments
Tomoaki Hashizume
Lecturer, Faculty of Music, Souai University
Yasuhiro Honjo
Instructor, Former Director of Kanagawa Prefectural Miura Rinkai Youth Center






(1) Composition of Divisions
(a) Solo Section General Section/Seniors Section (65 years old and over)
(b) Duet Division
(c) Ensemble division (3 or more ocarina players)
(2) Performance piece
(a) Solo Section: General Section: Set piece and one free program
Solo Section: Senior Section: Set piece and one free program
(b) Duet division: 2 free pieces or less
(c) Ensemble division: 2 free pieces or less
All divisions are limited to 6 minutes or less per stage (including intervals between pieces).
(3) Eligibility 
Those residing in Japan.
Participation from overseas requires the approval of the organizer.
Participants under 13 years old (without an adult performing with them) must be approved by the organizer.
No duplicate performances are allowed within the same division or between the solo and duet divisions.
(Solo and ensemble or duet and ensemble are allowed.)
Only those who will be over 65 years of age by the end of 2022 are eligible for the Senior Solo Section.
All categories are free to perform unaccompanied or with accompaniment.
There are no restrictions on duplicate appearances or senior status for accompanists and conductors.
(4) Set piece for the Solo Section
General Section
The contestant will perform "Long, Long, Ago," .
The theme section is based on an early published score, so it may be slightly different from what you remember.
The tempo specification should be considered as a guide.
Articulation marks from B are intentionally left out, so we expect the player to use his/her own ingenuity. However, heavy use of non-tanging "slurs" is not expected. Swinging should be taken flexibly between 2:1 and 3:1, and the most fluttery "swinging" should be devised.
Senior Section
The contestant will perform "La Golondrina" .
The tempo specification should be considered as a guide.
Articulation marks are not used much.
(5) Regarding the pitch of the set piece
The set piece must be performed on an instrument in 4C in the list below.
Transpositions on other instruments are not permitted.

6) Instruments to be used in the set piece
The Instruments should be traditional Italian design.
The use of double or triple ocarinas are not allowed.
The instrument must be made of ceramics. Synthetic resin, wood, or metal instruments are not allowed.
(7) Copyrights for free program
The music (sheet music) to be performed ias free program must conform to the Japanese copyright law.
(a) Commercial sheet music for ocarina.
(b) Commercial sheet music for other musical instruments (including 
voice), but without any modifications such as raising or lowering of notes.
(c) A piece of music for which the copyright protection period has expired.
If neither (a), (b), or (c) applies, please be sure to obtain permission for "arrangement use" from the copyright holder.
Inquiries will be accepted by e-mail only. However, if you are asking whether or not (c) applies to your work, we can give you advice on how to find out, but we cannot give you an answer.
If any copyright issues arise regarding free program, please resolve them at your own risk.
(8) Restrictions on P.A.
The use of ocarina P.A., reverb, and echoes is not permitted.
(9) Accompaniment
Only live accompaniment is allowed.
Accompaniment of more players than the number of ocarina players is not permitted.
Accompaniment to the set piece is not permitted.
(10) Application, Screening, and Presentation Process
(a) Application
Send the "Japan Ocarina Contest Application Form" and a copy of the score (any part of the piece is acceptable, but a page that clearly shows the title, composer, arranger and publisher is also required. 
We will send you a confirmation of your application.
Please pay the registration fee according to the instructions on the application confirmation. (Web-based payment is planned). No refunds will be made for cancellations.
If there are any deficiencies in the application, such as incomplete information, missing attached sheet music, or insufficient participation fee, the application will not be considered complete until all the deficiencies are resolved.
Application period:
August 22, 2022 (Mon.) Deadline: September 30, 2022 (Fri.) 
Applications may be closed if the number of applicants reaches a certain number (approx. 50) before the deadline. (in the order of application completion)
(b) Video Submission  (update: June/2022)
About the video to be submitted
Recorded after May of 2022 for this contest.
Separate files are acceptable for each piece, but the suite must be in one file.
Must be recorded including the accompanist.
Composite videos with audio cut and pasted and edited are not acceptable.
Addition of electrical reverberation is not acceptable.
Full HD or HD quality is recommended.
Submission Method
Video files should be submitted via online storage such as Google Drive or Drop Box; videos submitted via YouTube or other video  submission sites will not be accepted.
Deadline will be notified again after the application is submitted, but is currently scheduled for late October.
Image of the shooting angle of view
 (Please do not zoom or pan)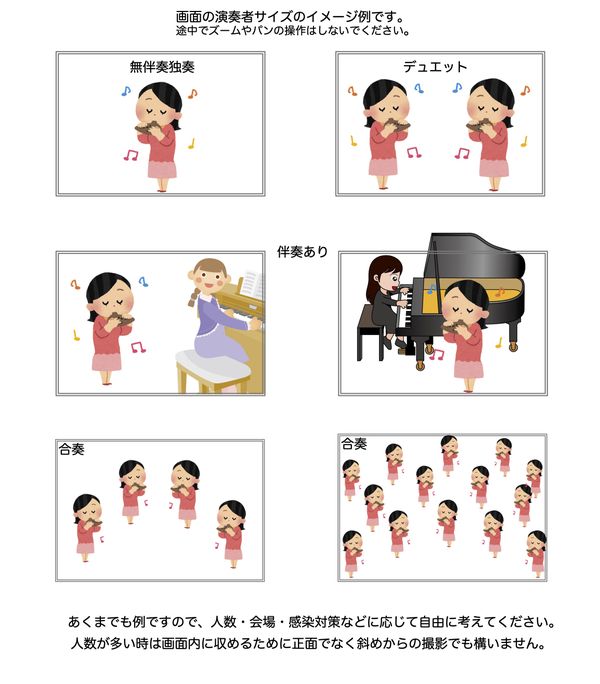 (c) Judging
Judges will gather to play the videos (27" display, audio system) and score them. (Closed to the public)(Mr. Emiliano will be judged remotely.)
d) Announcement
All submitted videos will be posted on the website and the award winners will be announced at the same
time. (Scheduled for mid to late November)
All entrants will receive an individual review. All winners will receive a certificate of merit (and extra
prizes for those who qualify).
(By applying for participation, you agree to the publication of your submitted video.)
11) Awards
First, second and third place in each category
The Grand Prix is awarded to the exceptionally outstanding first-place winner.
The first-place winner will receive a supplementary prize of 50,000 yen, and the winner of the Grand Prix will receive a prize of 100,000 yen.
(12) Participation fee (per stage)
(a) Solo section: 10,000 yen
(both unaccompanied and with accompaniment)
(b) Duet section: 15,000 yen
(both unaccompanied and with accompaniment)
(c) Ensemble section (for 3-5 players) 15,000 yen
(d) Ensemble section (for 6 or more players) 3,000 yen per player
(maximum 30,000 yen) 
Accompanists and conductors are included in the number of participants in both (c) and (d).
Download Files
Set piece for the Solo Section
Payment